Moore Chrysler Jeep Fiat proudly serves Peoria, Arizona and the surrounding areas of Phoenix and Maricopa County.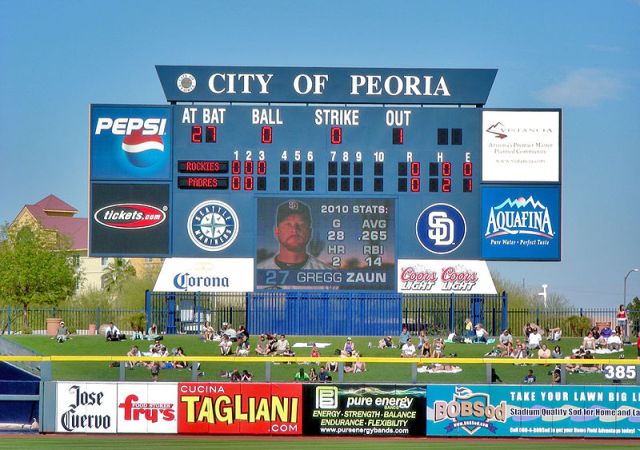 Source: ArizonaTravel - http://commons.wikimedia.org/wiki/File:Peoria-Sports-Complex-Peoria-Arizona.jpg
Peoria is a great place to call home no matter your lifestyle. As a suburb of Phoenix, Peoria has that small-town feel with a larger-than-life population where there's always a new, friendly face to meet and many activities to partake in. The residents in Peoria couldn't be prouder of the town they live in. With plenty of entertainment happening in the P83 District and a plethora of activities happening down at the Rio Vista Recreation Center and Park, there's always something to do in Peoria.
Peoria lies just slightly northwest of the heart of central Phoenix in Maricopa and Yavapai Counties. It's about a three-and-a-half hour drive from the Grand Canyon. Lake Pleasant Regional Park lies just on the northern border of Maricopa County and provides about 12 square miles of endless outdoor activities like fishing, camping, hiking, boating, and much more. Just west of Peoria is the White Tank Mountain Regional Park, providing even more outdoor activities to take part in. You can't forget to visit the 52-acre Rio Vista Recreation Center and Park that poses as the center for recreational sports gatherings and outdoor athletic fields of all kinds. Peoria is the perfect place to get active.
The town's P83 Entertainment District is your go-to area for the arts and entertainment. Go see a show at the Arizona Broadway Theatre or visit the city's Old Town area and Center for the Performing Arts.
Peoria High School and Centennial High School are just two of the great schools in the area that provide convenient opportunities for families. Colleges like Midwestern University, Glendale Community College, and many more are all within 10 miles of Phoenix making for a limited commute for students.
Peoria is a steadily growing population with a decreasing crime rate, making it a great place to visit and even live. It's a place with small-town values and big-time love and respect for the great outdoors of the Grand Canyon state, our beloved Arizona.